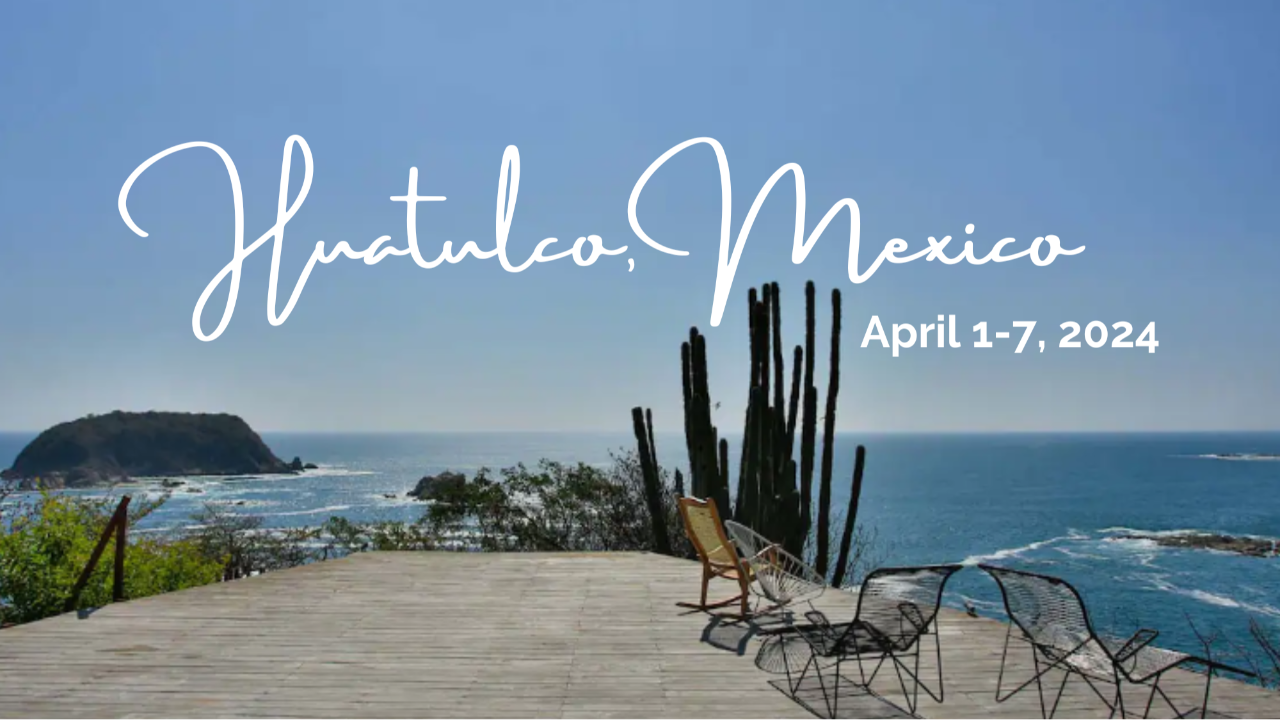 5 Reasons Why Mexico in April is a Good Idea
Oct 29, 2023
Mexico in April is just about the best decision you could make for yourself and your health this year.
Why? I'll give you 5 solid reasons.
1. April is the perfect time to get away. April feels like it should be spring. The days are starting to get a bit longer, and likely there's been a few spring days that feel like summer is on it's way. But if you're in Canada you know this is a fallacy and it's still months away. The west coast has many rainy days + weeks ahead, other parts of the country might even have a surprise spring snow storm. Spring can draaaaag on. Getting away for a dose of active R&R, an infusion of sun and vitamin D, and some quality time for yourself and your health is perfectly timed in early April.
2. You can make space in your calendar for you. The holiday season will be behind you, the busy summer hasn't yet started. It's the perfect momentary lull in life before it revs up again. If you are the type to commit most of your days to supporting, serving and helping others (work, kids, family, partners, etc), take a week in early April for yourself. You can't pour from an empty cup.
3. You can explore a part of Mexico that you may have not been to (or heard of!). I've planned this Retreat in beautiful Huatulco for several reasons.
First, it's a beautiful gem on the pacific coast. It's a safe community, with stunning weather and uncrowded beaches. The community feels small and quaint and the shorelines aren't covered in all-inclusive high-rise towers.
Second, it's easy to get to as you can fly direct from many cities (Vancouver & Calgary, plus other options).
Third, I've been to the Huatulco area many times and am familiar with the areas, the cafes, the beaches, the towns & unique areas...and I can't wait to show it to you.
4. I have THE BEST local chefs who will be on site all week ensuring each and every dish you eat is made with fresh local ingredients. Combining healthy dishes with Mexican flavours, and of course filled with love & care. Esther & Roberto have become staples at my Mexican Health Retreats. Those who have been on a Retreat before, know why, and if you join me for a magical week in Huatulco, you'll soon know why too ;) Their energy & fun zest for life that they infuse into every Retreat is hard to describe but such a unique aspect that add to the magical week.
an
5. Life is never really going to calm down (you know this, I know this...it's the reality of life). I have so many people tell me 'I'll come on a Retreat one day' or 'maybe next year'. Well the truth is nothing is guaranteed and life will be just as busy, if not more, next year. Grab this opportunity and let's go. You get your butt to the Huatulco airport on April 1st, and I'll take care of the rest of the details. Transfers to the Villa, most meals, activities, workouts, yoga, it's all included...and it's all there as an option, as it's your Retreat. If you decide all you really need is a week in a lounger staring out at the pacific ocean, that's A-OK as well. The itinerary is completely optional. There is plenty of time to socialize and connect with like-minded people and plenty of space and time for introverted quiet time. Your Retreat, your choice.
My upcoming Retreat in Huatulco, Mexico is April 1-7th, 2024. This bespoke active travel experience has limited spots available, so make sure you reserve your room now with a $400 deposit.
Full details are available here.
Make a decision now that your future self will thank you for :)
Helpful & healthy emails you'll actually want to read
Healthy habit ideas & strategies, motivation, recipes, workouts & more!
We hate SPAM. We will never sell your information, for any reason.